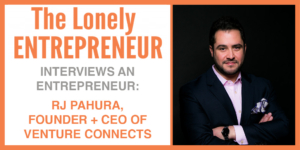 The Lonely Entrepreneur Interviews: RJ Pahura, Founder and CEO of Venture Connects
Once a month, The Lonely Entrepreneur interviews an entrepreneur who is in the trenches and provides their unique perspectives on what it is like to be an entrepreneur. TLE interviews RJ Pahura, the founder and CEO of Venture Connects, a Chicago-based company that partners entrepreneurs with investors and hosts the annual FUNDConference.
TLE:     As an entrepreneur, what do you consider to be your biggest struggle? What changed?
RJ:       The struggle of what it actually takes to work. What looks sexy on the outside is an enormous amount of work to actually succeed. In my opinion, the hardest jobs in corporate America couldn't compare to that of being a successful entrepreneur. I would compare the people that make it as entrepreneurs to IRONMAN participants—the difference is, for an entrepreneur, every day is being an IRONMAN.
TLE:   Sometimes, the best day can also be the loneliest one. What was your loneliest day as an entrepreneur? Your best day?
RJ:       The loneliest days of being an entrepreneur are the ones that you can literally talk to no one else that could possibly understand what you're going through, except the ones that have lived it.You can go home to your significant other, friends, or family, and when they ask "How are things? How did your day go?", it's easier to just say "fine" because the depth and realism of what you've experienced would take hours to explain. And quite honestly, they still couldn't relate.
For me, best days as an entrepreneur are what I call "small successes," or when a plan comes together. These make you feel like you're winning in some regard.
TLE:   We all remember our firsts: first sale, first customer, first time we were in the news. What is your favorite "First" moment as an entrepreneur?
RJ:       One of my favorite first(s) was being at an event, and hearing a group of people in finance talk about a company that was doing great things. When I joined the conversation I introduced myself as RJ. The conversation went on to talk about some cool things the company was doing—which turned out to be my company, Venture Connects! I was quite shocked and let the conversation go on, selfishly wanting to hear more. When they asked what I did, I said, "Funny you guys are talking about it, I actually work there." I didn't feel the need to go into any more detail or explain my position, and was happy enough to just hear the positive conversation about Venture Connects.
TLE:   Being an entrepreneur is not a job, it's an identity. What do you consider to be traits an entrepreneur must have to succeed?
RJ:       Tenacity. Endurance. Cast-iron thick skin. Insane work ethic. People-focused. Listening more than talking. Knowing how to be efficient with your time. Knowing what it takes to make money, and focusing on it. Without it, you are just a dreamer.
TLE:   Can you identify a damaging perspective that stifled your progress and how you were able to change it to make progress?
RJ:       As an entrepreneur, you have a lot of internal struggles that you sometimes can't solicit feedback on. People just don't understand what it's like to not make payroll for employees; how hard it is to run and continue to build a business at the same time; let customers or team members go; deal with board members; trust others….the list goes on and on.
It's really important to surround yourself with as many people as possible that have been in your place (yes, that means older and wiser) to help you navigate through these situations. Otherwise, the man in your head will keep you up 24/7.
TLE:   You organize the biggest Midwest conference where you bring together entrepreneurs, top Midwest investors, and everyone in between. Tell us a little more about this conference and why every entrepreneur who is ready for the next step should be there.
RJ:       The FUND Conference was a natural extension of what the Venture Connects ecosystem created by partnering early stage companies with early stage investors. Imagine one place in the globe where anyone can go to learn about startups, investing opportunities, incredible speakers, content and diversity for all; that's what we've established with The FUND Conference. We've made it so that anyone in attendance can get value. No matter where what stage of the ecosystem they are. And, we can prove it. Our goal is to continue to be the leading conference in the central United States and beyond, connecting early stage ventures, investors, corporate innovators, and game changers in the space.
To learn more about RJ and his company Venture Connects, visit http://www.ventureconnects.com. If you are an entrepreneur or investor interested in attending the annual FUND Conference, which takes place in Chicago from September 27th—29th, 2016, visit FUND Conference
Click here to Subscribe to The Lonely Entrepreneur Blog
[tell-a-friend id="1″ title="Tell a friend"]